Leenane Templeton's' Andrew Frith has won the 'Australian SMSF Best Practice Award'. This prestigious self-managed super fund award was attended by over 900 professionals at the 10th anniversary of the SPAA SMSF National Conference gala dinner in Melbourne.

The SMSF Sector is the largest superannuation sector by number of funds and asset size in Australia. There are currently just under 500,000 SMSFs in Australia with over $400bn in assets (as of April 2012), with an average fund size of $900,000.
The award was presented by SPAA (SMSF Professionals' Association of Australia). SPAA is recognised as the peak body for professional advisors and the leading association within the SMSF industry in Australia. The Association is committed to raising industry standards and promoting best practice.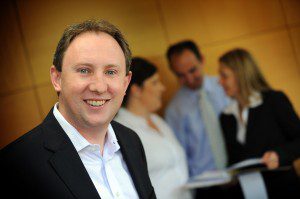 Andrew Frith, CEO of Leenane Templeton The self-managed Super Specialists was delighted to be the national winner of this award. "SPAA's focus is to raise the standard of advice provided by professionals within the SMSF industry, I am absolutely delighted that our professionalism and high standards have been recognised within the industry. The award demonstrates our continued commitment to our SMSF clients and our teams level of strategic expertise within self-managed super funds" said Andrew Frith of Leenane Templeton The Self-managed Super Specialists.
The Newcastle based Leenane Templeton firm have three specialist teams focused on business accounting & advice, wealth management and a national self managed super fund advisory service. Their SMSF team includes SMSF Specialist Advisors and auditors that have been through the SPAA accreditation programmes.
Andrew, a Chartered Accountant and specialist in self-managed superannuation was also recently awarded runner up in the Financial Planning Association Best Practice Award in 2012. He has also been recognised in the past as one of the top 10 financial planners in Australia awarded by AFR Smart Investor.
Leenane Templeton SMSF Offices are located in Newcastle, Sydney & Brisbane.