With the ageing of the Australian population, many of us will face the prospect of requiring assistance or living out our days in assisted accommodation.
The current Australian Aged Care system is complex and options and costs can vary greatly.
Here are some of the key issues that you should consider to ensure that you have choice and peace of mind when providing for this significant lifestyle decision.
What do I do first?
Government subsidised facilities and services all require an Aged Care Assessment Team (ACAT) review to establish the level of care required. Until this is known, it may be difficult to establish which facilities or services are suitable and what costs may be incurred.
Can I remain in the family home?
There are several at home care packages available that may make it possible to extend time in or remain in your home indefinitely.
In general, an ACAT assessment is required to be eligible for these services.
What do I look for in a facility? One of the most important aspects to be eligible for subsidised accommodation is that the facility is Government approved and accredited and that the provider is financially viable.
The next step involves the lifestyle features of the facility:
Ageing in place facilities – is the facility accredited to provide both low and high care thereby making the transition easier.
Private or shared accommodation and facilities.
Meals – variety, choice and ability to cater for specific dietary requirements.
Medical services and facility staff – availability and qualifications.
Location – proximity to family, friends, transport and local services.
Type of social and recreational activities and facilities available.
Daily routine – is there flexibility particularly in regard to visitors.
Type of onsite extra services.
Security of facility.
Facilities range from basic through to quite luxurious and it's about making the transition to care as seamless as possible bearing in mind the capacity to pay. It's also about balancing whether the cost of any extra services do provide value and are of use to the resident.
What are the costs of Aged Care?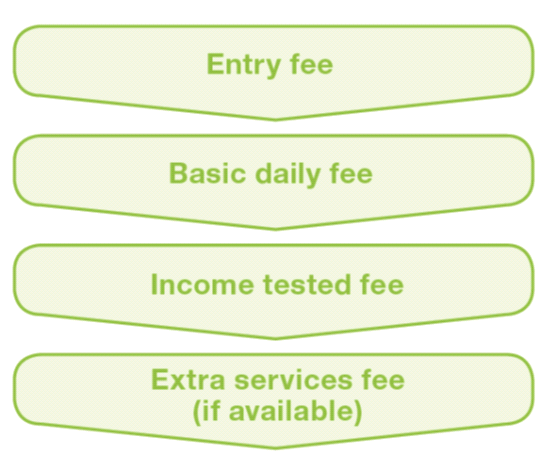 As the chart indicates, there are four possible costs each of which can be influenced by many factors such as:
Level of care required.
Facility chosen.
Financial situation.
Can I negotiate the costs of aged care?
The costs vary widely but it may be possible to negotiate the entry fee for low care facilities and if available the extra services fee but it is important that negotiations are undertaken prior to signing any residency contracts.
The basic daily and income tested fees are reviewed on a regular basis and are influenced by the investment planning strategies in place.
What if I can't afford the costs?
All facilities are obliged to provide supported beds. The number of supported beds is determined on a regional basis and can vary widely throughout Australia based on the socio economic demographics of the region. Additional Government subsidies are available for supported residents.
Family Home.
The decision regarding the family home is often difficult as there may be strong emotional influence and other family members to consider. The sale of the family home and the realisation of another assessable asset can have a significant effect on ongoing accommodation costs, tax outcomes and Centrelink eligibility. It is recommended that professional advice is sought to ensure that the best commercial outcome is achieved.
Getting Aged Care & Strategy Advice.
There are many decisions to make, many of which can impact significantly on the cost and choice of care. Speak with our Self managed super fund advisors to plan your strategy.
Please also review our articles on the impact of life longevity. And visit our financial planning website which is also an excellent source of information.
Pre planning and the assistance of a skilled adviser, to navigate through the various steps and develop a solid investment strategy, can greatly relieve the burden of what can be a very complex and difficult decision.
Source: Lifeplan Funds Management, part of the
Australian Unity Group, September 2011