The Australian market – has a new bull market begun?
The Australian equity market rally accelerated in February as the 'great rotation' out of bonds continued. The Australian market has put together nine consecutive months of gains with the S&P/ASX-100 Accumulation Index up 26.1% over the year to 28 February 2013.
The bullish mood has developed as a result of the continued strength of the US market, plus the expectation that rate cuts by the Reserve Bank of Australia (RBA) will eventually spark a rebound in the broader Australian economy (outside of mining). Most of the market gains relate to Price Earnings (PE) expansion in anticipation of a rebound in earnings growth. The forward PE has simply reverted back to its long term average of 14.4 times earnings.
Dividend Yield (%)
4.3
4.6
(Based on broker consensus forecasts)
Can the rally continue?
While the market now looks fully valued on a PE basis, much depends on the 'E' – earnings – in the equation. Low interest rates spur growth in the economy and reduce the cost of debt. This boost comes after a period where companies have focused on improving productivity during a downturn.
In combination, the result is usually a strong rebound in earnings growth over the medium term. This growth cycle usually starts towards the end of the RBA interest rate easing cycle and continues all the way to near the peak of the interest rate tightening cycle.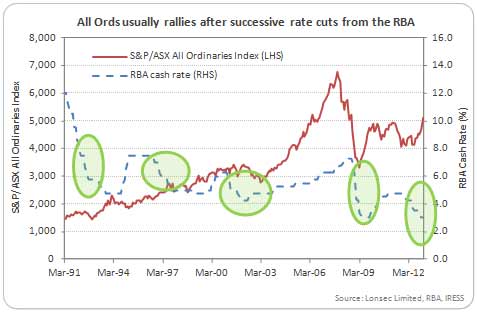 We can see this effect in the chart above. The easing cycle nearly always sparks a rally in the Australian market. It is also fair to say that, while the RBA seems near the end of the easing cycle, the tightening cycle has a long way to go.
So history would suggest that earnings growth will rebound over the next few years and that stocks are not as expensive as they seem; earnings per share forecasts are probably underestimated. Broker consensus currently forecasts average earnings growth of 4.2% in FY13 and 7.1% in FY14.
Of course, we are not suggesting the market will continue to go up every month – there will be ups and downs along the way, but there is a good chance that a bull market has indeed begun.
Source: Lonsec, March 2013