SMSF Seminars
Please subscribe to our email news in order to recieve detailed information about our SMSF seminars. These SMSF seminars fill quickly and are a great resource for SMSF trustees or people considering a self managed super fund. We have some of Australia's leading industry experts speak at our seminars with excellent tips and updates given. These are not sales events but are designed to impart valuable knowledge to our clients and guests.
Click here for full details about our 2012
Previous SMSF Seminars have included: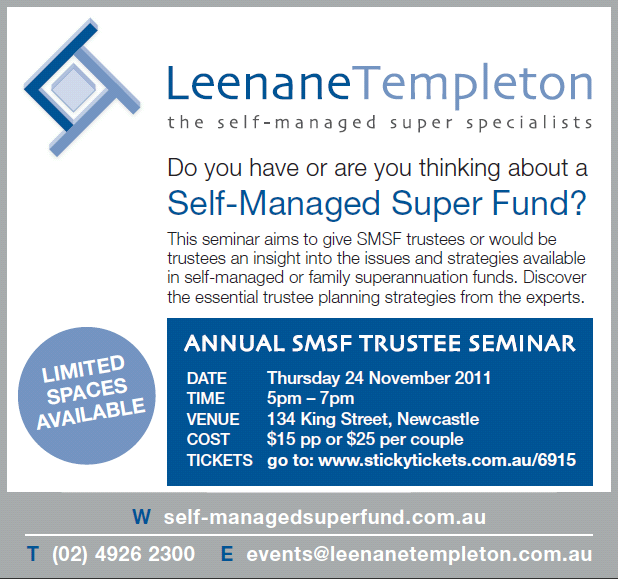 Do you have a self managed super?
or
Are you thinking about a SMSF?
Then don't miss our next special SMSF seminars..
Annual SMSF Trustee Evening

This seminar aims to give trustees or would be trustees an insight into the issues and strategies available in self-managed or family superannuation funds.
This seminar covers SMSF estate & succession planning
Many people have no succession plans or proper estate planning for their SMSF, this oversight is a major concern.  Discover the essential planning strategies from the experts.
What will you learn?
Some surprising statistics
The  importance of estate planning with SMSF's
How to pass wealth within SMSF
The strategies you need for succession planning
Why you need a corporate trustee.
PLUS
We are all living longer, but will your money last?  What can be done now to improve the longevity of your retirement savings
Who should attend?
These SMSF seminars are of benefit to anyone who currently has a SMSF or is thinking of having one.
Presenters:
Daniel Butler – DBA Lawyers is a leading SMSF law firm, headed by Daniel Butler, who is widely recognised as Australia's leading SMSF lawyer.  As seen on Sky Business Channel.
Andrew Frith – CEO of Leenane Templeton Wealth Management
Next Date: 24th November
Location:
Time: 5.00pm – 6.55pm
To register for SMSF seminars online go to stickytickets.com.au or book direct by emailing wealth@leenanetempleton.com.au
LIMITED SPACES